Post by Bytor on May 10, 2020 6:43:51 GMT -5
-Visuals- 7.7/10
Let's jump in our trusty time machine and take a trip back...back to a simpler time...back to late 2008! This is when the game was released in North America and while this is a port to the Playstation 3 it was originally made for the Wii, and it shows. I'm not going to go so far as to say it's ugly but there are jagged edges everywhere. There are screen tears and the overall look in the dungeons varies from pretty good to pretty bleak and bland. The monsters, to be honest, aren't much better. For one it seems most of the visuals are compressed, maybe it's the port? The only animated scene is at the start of the game although the skits are certainly up to par and fully voice acted. Also, one seriously annoying thing is the camera angles. It rotates with you so quite often (read all the time) the puzzles in the dungeons are simply a royal pain as you CANNOT actually look around to figure anything out. Overall it's not like the visuals are terrible but compared to the the main Symphonia game and considering this IS a PS3 game it's certainly s step backward.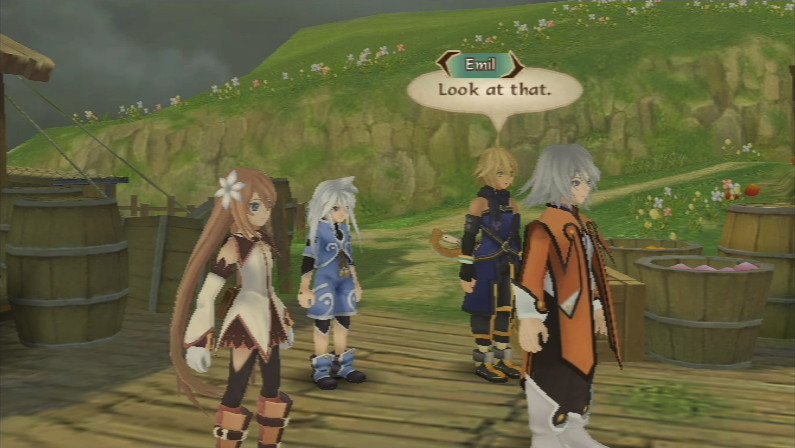 -Sound- 7.3/10
Repetitious, monotonous, unassuming, unobtrusive, etc. Get the picture? Here's the deal though, the music is actually pretty good. However, it's one of those things where you hear the same thing over and over and over and eventually you simply tune it out, which is not always a bad thing at all. And yes, that is the exact same thing I wrote for
Symphonia
...but a slightly lower store. Because....the voice acting is borderline horrible (Ratatosk Mode is the worst). Whiny,repetitious and simply a poor fit for the characters IMO, where is the Japanese voice over's when ya need them, lol.
-Gameplay- #/10
OK....first of all my complaints, in no particular order. You only receive gald from humanoid enemies, not that money is a huge issue, but still, it does require some management in expenditures. If you attack enemies while they are knocked down, no damage is done, likewise if you are even slightly out of range no damage is done, also if you attack a non-targeted enemy no damage is done, collateral damage is iffy as well, slightly annoying. YOU WILL GET STUNNED NON-STOP...and I mean NON-STOP. If you get through a battle without it happening you should be shocked. Monsters regenerate non-stop, and I mean non-stop. Now, I'm not talking about leaving an area or room and they regenerate, I'm talking about stand still too long or look around too long and they are back, typically about 30 seconds (yes, I timed it). This DESTROYS the ebb and flow of your progress and takes away your ability to actually look around and figure out what to do and where to go next. It makes the puzzle aspect absolutely maddening. So...it looks like the "break point" is about ten levels over the monsters you are fighting. Having said that most battle aren't that hard to begin with BUT they can be seriously annoying. It seems sometimes you'll get caught in a bad "loop" where you get hit, staggered, hit again, hit from behind and hit again and that in itself wouldn't be so bad BUT it will and easily can take off half your hit points in less than 30 seconds...and that's no exaggeration! Skits, skits, skits and more skits! Tales games are known for the skits and they are often quite funny and add to the story. This game, however, reminds me of when I had to write book reports from school and they had to be two pages long at least so I'd add sentence after sentence which had little to do with the subject to flesh out my report....this is the same situation. While some are funny and some do add a bit to the story the vast majority seem to have been done simply to add time and take up space.
-Story- #/10
Write your reasoning here.
-Overall- #/10