Post by Bytor on Jun 8, 2013 16:29:43 GMT -5
-Visuals- 9.4/10
I would like to divide the ratings into two distinct scores ala IGN, presentation and graphics. LOL, on second thought why bother, both scores would be equally as hi as this game is unabashedly over the top and at the same time simply awesome looking. It is based, loosely on equal parts Japanese mythology and sci-fi and it is simply gorgeous to look at with what I felt to be some Hindu influences (perhaps?). I marveled at pretty much every scene and my only complaint was that there was so much to look at I felt I didn't have time to soak it all in. The cut scenes went back and forth from gameplay looking to a more comic book style and the various character designs were all so different that I only wished the game had been longer. Now, don't get me wrong. The game is not perfect. It is NOT a realistic looking game and there are some slight issues with some of the graphics but it really is overall a beautiful beautiful game.
-Sound- 9.1/10
Sweeping music, wonderful vocals, what more can one say!!!! A simply wonderful accompaniment to a simply great game (for what is is, not what it isn't, more on that later)
-Gameplay- 8.8/10
I have heard this game described as QTE hell, and I admit, if you absolutely hate QTE's then you may seriously want to skip this little gem. Because thus admitted the use of QTE's take up a lot of the gameplay. The rest is, to be honest, setting up and accomplishing various attacks in order to then execute a QTE for a killing blow. I am not, typically, a huge fan of this type of gameplay, but, having said that here it is don so very well that I honestly didn't mind. And while in some games failing a QTE is pretty much tantamount to death here there is a bit of forgiveness, you don't have to be absolutely perfect, although you do have to at least be pretty close, lol. Some have also complained about the lack of action, and I will admit the game is cut scene after cut scene interspersed with action, but honestly I felt it had a wonderful balance in the pacing and combination of the two. Perfect? NO, but still a fun romp, just don't expect in depth customization and such, not going to happen, instead make sure you know where the square, circle, X button and so forth are, lol.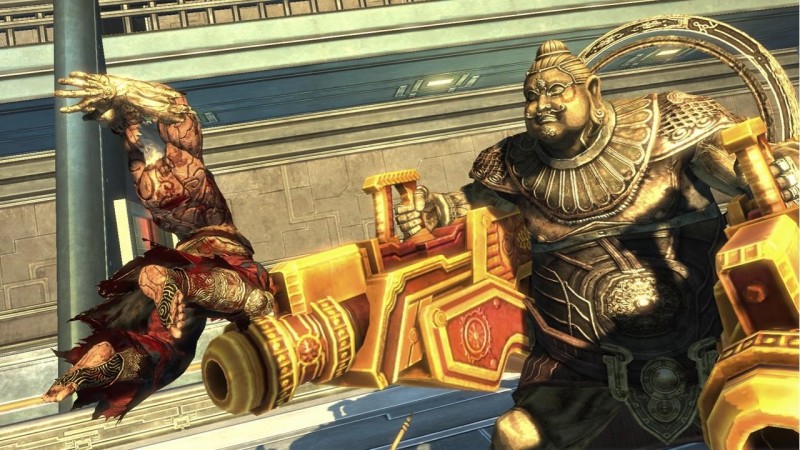 -Story- 9.2/10
OMG why couldn't there be more?!?!?! To say I loved this story would be a vast understatement! The story takes place over a 12000 year period in which Asura, one of the demi-gods is betrayed by his fellow god-generals and thrown out of "heaven". His wife killed, his daughter abducted he only survives by his rage, and interestingly enough his "humanity", as he sees the rest of his fellow gods treatment of humans to be unjust and unfair, but basically his rage is what drives him, lol, and boy does he have some rage! Seriously, I found this story to be one of the most enthralling in any video game I have ever played, the only, and biggest, issue is it is simply not fleshed out enough. I would love to have seen this game developed ino a much longer game, with more RPG elements and more choices as far as what Asura does. It would have, IMO, made a (slightly) great game a freaking awesome game! Maybe we can have a prequel along those lines.....hint hint developers.
-Overall- 9.2/10
Non-stop fun! This game is not some long drawn out convoluted classic. Instead it is a story of one demi-gods rage at injustice and his battles to right the injustice. I loved it, but it is short, it is fast paced and it is not for everyone I understand, but, for a fun little romp I cannot suggest it highly enough.