Post by Bytor on Feb 21, 2013 13:05:48 GMT -5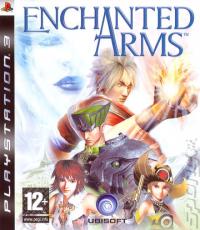 -Visuals- 8.4/10
This is going to be an interesting portion of the review, actually this aspect may be the hardest aspect to actually judge. On the one hand certain CGI scenes look really, really good! So good at times I was simply enthralled by the look and designs (especially the ones involving the Queen of Ice). The various, and I mean various (over 100) golems you can collect and use are also simply a delight and joy to look at. On the other hand the facial animations can best be described as borderline horrendous (I actually think they stole them from a 1970's kung fu movie) and the various environments you traverse range from borderline blah to somewhat quirky and interesting (at least from a distance and assuming you don't pay too much attention to detail. So, see the dilemma? On the one hand it's a damn fine looking PS2 game (yes, I meant PS2), but on the other it's certainly not up to any of the even decent looking PS3 games. Still, the Queen and the golems (oh, did I mention Karin...meow) kept me from closing my eyes, and more often than not they were enough to keep me interested visually.
-Sound- 8.3/10
This music is one of the highlights of the game to be honest. The songs do a wonderful job fitting in with what is going on in the story/game. Thus admitted I don't know a lot about game soundtracks but from what I have read this is considered to be a hidden gem, and I agree, great music! Now for an end to the love fest, or a continuation if you adore over the top anime style typical JRPG voice overs. I swear Atsume was designed to get on my nerves, not to mention his mispronunciation of Japanese words, Yokohoma, really? And while Makoto was certainly equally as stereotypical at least he was funny. Raigar is adequate as is Yuki and Karin I actually enjoyed (see a pattern here with Karin, lol). So...in a nutshell, like voice acting like this and perhaps you'll like it, I adore many anime shows but I admit this was at times a bit much even for me.
-Gameplay- 9.2/10
Honestly pretty standard fair here for a typical turn based JRPG. Enemies are lined up on a grid, you and your three allies are on an opposing grid and typically you will get first attack (using all of your allies) then the enemies will attack, although occasionally you are "caught off guard" and the enemies go first. The battles for the most part are not too terribly difficult, although be ready for some high encounter rates at times, and to be honest I had fun using the various golems and various attacks at my disposal in the battles. As per most games of these types there are the standard item usage, defense spells and offensive buffs, nothing really different from other games of this ilk. What really makes this fun is the use of the golems, so many different ones (all with elemental weaknesses/strengths) make the battles simply a lot of fun. Unfortunately there is really no reason to synthesize and use all of the golems, a couple of each elemnt is all you really need and to be honest I used Yuki, Riagar and Karin well over 90% of the time. Boss battles are, however, a bit different, as you will be forced to develop and use a good strategy or else you will lose, but you can retry (I love that feature, lol) and as long as you paid attention you should win next time, only one boss gave me much trouble at all. Now, I admit I love turn based battles so I adored the gameplay in this game, but for those who are more suited to action type games I imagine you will not care much for this aspect of the game, so be forewarned.
-Story- 8.3/10
Well...thus admitted the story is certainly not the strong point of this game, unless that is you have never, ever, ever played any type of JRPG. In a nutshell over 1000 years ago there was a huge war called the Golem Wars. A war where demon golems attempted to destroy all of mankind. Fast forward 1000 years and you have three youths in school named Atsume, Toya and Makato. Turns out Atsume has a "deformed" arm which reacts anytime there is enchantment (magic) being used, not to mention he's somewhat of a class clown/failure as a student. And of course he is the one who is destined to save (or destroy) the world. Throw in a princess, Karin, her bodyguard, Raigar and the teenage golem hunting money grubbing girl, Yuki and whoila, you have all the ingredients for a JRPG. And having said all of that I admit I enjoyed the story, cliche or not it was at least not horrific, lol.
-Overall- 8.6/10
There is two scores I am going to give this game. Reviewing it objectively I am going to give it a decent score, nothing great but certainly nothing bad. In my mind the score is much, much, much higher. I actually liked this game immensely. It's nothing overwhelmingly great but it sure is a lot of fun. Despise JRPG's and you can lower my score by 2 points, like them and you'll probably agree with me, love them and you might actually want to add .5 or so.