Post by Bytor on Nov 23, 2012 23:50:05 GMT -5
-Details-
Genre: Action
Company: Madhouse Studios
Format: 12 episodes
Date: 7 Oct 2008 – 23 Dec 2008
-Visuals- 9.3/10
Blood, blood and more blood....but, having said that the use of the color palette and the contrast in this anime is simply striking. Horror anime's in general tend to show some incredible usage of color and this one is no exception, instead I would call it a striking example of what wonderful use of color can add to a show. The actual animations vary from good to very good but what really makes this show shine is the color's. I swear there is no color in the visible spectrum that is not used in this anime.. Another strong point is the facial animations. Kuromitsu is oddly both cold and emotional, Kuro perplexed, anguished and loving, and all of this in a seriously minimalistic visualization, but Madhouse did a great job in these animations. The other interesting aspect is the dichotomy between the historical Japan and the future cyberpunk/apocalyptic Japan. Enjoying the travel through time was one of the highlights of my time spent with this anime.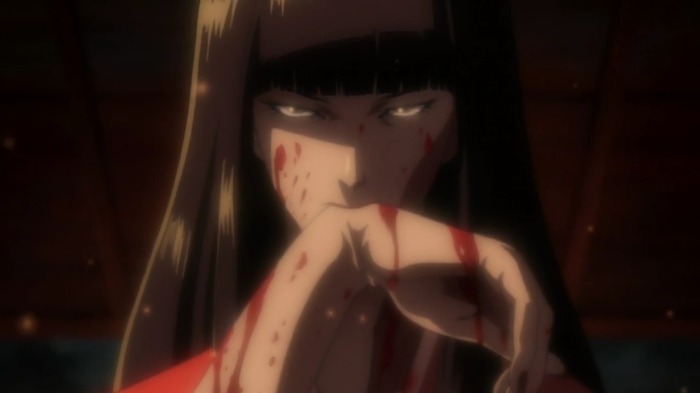 PS...Be ready for blood...lots of blood.
-Characters- 8.5/10
Well....hmmm...how to put it...Let's see...for the most part the two main characters Kuromitsu and Kuro remain somewhat of an enigma the entire show (while Benkei, for all purposes the only other main character serves as the third in a messed up love triangle) which is somewhat understandable as Kuro loses his memory every few (hundred) years and the only real thing you find out about Kuromitsu is that she will do anything, and I mean anything to keep Kuro by her side for all eternity. I must admit I found myself addicted to attempting to fathom her motives, other than unconditional love/desire, and I found myself equally enthralled in Kuro's attempts to discover what the hell was really going on. It's certainly not the most character driven story I've ever watched but it is interesting enough to hook you and keep you watching.
-Story- 8.5/10
Welcome to the wonderful world of possibly the most blood thirsty love story in the history of love stories. Kuro is a young lord who while attempting to escape an assassin attempt finds himself a visitor in Kuromitsu's dwelling. She welcomes him and his servant Benkei but admonishes him that he must not enter her room, of course he does, and discovers that she is some type of vampire, things go down hill quickly from there. The dwelling is attacked, Kuro mortally wounded and Kuromitsu, in order to have him with her forever (she fell in love rather quickly) turns him into a vampire as well. Now, do not think of this as a traditional vampire story, instead think of it as a somewhat messed up psychedelic (oh the colors, the colors) timeless love story where the main characters live forever and happen to drink blood, no afraid of garlic, crosses an the sun stuff here. Honestly the story is a mind trip. It travels form @1000 AD to a post apocalyptic future all the while kepping you a tad confused and yet very much enthralled. I'm not sure I totally "got" everything but having said that I still enjoyed the show quite a bit.
-Overall- 8.7/10
This is a tough one. On the one hand it's certainly somewhat different to watch. On the other hand I was often a tad confused as to what exactly, or actually when exactly to be more precise, things were going on. And the ending will certainly make you sit up and go wow! So, I guess all things considered I enjoyed this show, I didn't love it but I would recommend it to someone looking for a bit of horror, action, weird anime.