Post by Bytor on Jun 30, 2009 15:50:27 GMT -5
-Visuals- 8/10
OK...I gave it a higher score although I believe the graphics take away from the game. I realize that may sound weird but here's my reasoning. The graphics in
Episode 1
were certainly sub par for what was released at the time, but, the graphic fit the feel of the game. In Episode 2 the graphics have certainly been modernized and actually look much less cartoonish but they do not fit the game as well. The graphics are much truer to "real" looking thus admitted, although there are still some definite jerkiness issues and some scenes where the movements just don't match, but after playing
Episode 1
and getting used to the way the people look it is hard to retain that same feeling of closeness with everyone when they look different, not totally different but still different. Here's how Shion changed throughout the series for instance: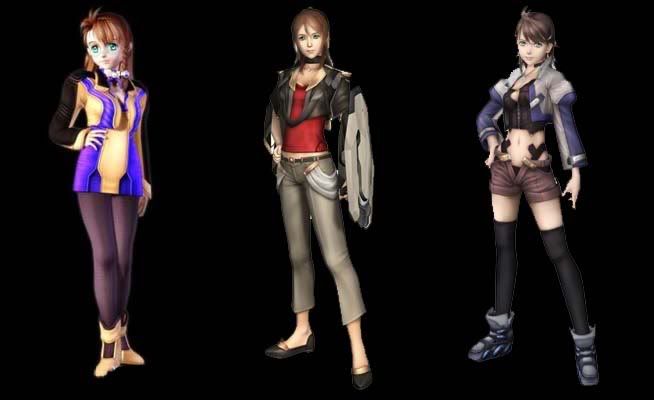 Now I realize that she changed in Episode 3 as well, but I for one thing the change from 1 to 2 was much more drastic, you can still see the same facial expressions in Episodes 1 and 3 but they are lost to the "realness" in Episode 2.
-Sound- 7.5/10
I understand that it is sometimes not possible to get the same actors for the same roles, but at least, if they must be different people have them sound at least somewhat alike...KOS-MOS is totally different. And whether it was the graphics which made me not as attached or whether the voice acting/direction was simply not as good I'm not sure, but I am sure that over all it simply wasn't as effective as Episode 1. The soundtrack itself was actually just as good if not better.
-Gameplay- 7.5/10
Now I'm going to complain some more. Why in the world get rid of the UMN and I personally despised the way attacks are set up. In Episode 1 it was possible to either dodge or run from some attacks, not so much here, good luck escaping battle. I guess I got used to the battle system in
Episode 1
was well, I understand you (the developers) want the game to be an evolution but in this case the changes were unnecessary. Prepare for shorter cut scenes as well, and while some may certainly applaud this move in my opinion it made the story a bit too fast paced and took away some of the elements which added to the story. And while I'm complaining, why in the world get rid of the A.G.W.S. units, although I did like the battle system the E.S. units used it struck me as change simply for the sake of change.
-Story- 9.7/10
The episode focus a little less on the Gnosis and more on the search for the Zohar as well as emphasizing Jr. and Albedo's story more. It also ties up some of the lose ends in Episode 1 and continues to explain what is happening and why, although don't expect to fully understand until the end of Episode 3.
-Overall- 8.2/10
I almost consider Episode 2 to be a filler between 1 and 3, it does the job but it could have done it so much better.