Post by Bytor on Jun 12, 2013 16:00:51 GMT -5
-Details-
Genre: Comedy/Slice of Life
Company: PA Works
Format: 26 episodes
Dates: 3 Apr 2011 – 25 Sep 2011
-Visuals- 9.1/10
What I really enjoyed about the visuals in this anime was the absolute attention to detail in an anime way, in so much as it wasn't so much totally realistic as it was well drawn. The Inn Ohana works at is a Taisho era hot springs and the costumes and the designs of the inn as well as the various implements used in service were all designed wonderfully. The character representations are also all so very well done. Not only does Ohana look exactly like she should but so does everyone else, lol. Atrue mesh of design, writing and voice acting provided for, in my opinion a show that is a masterpiece to look at, I especially love Beanman and the Crane, lol.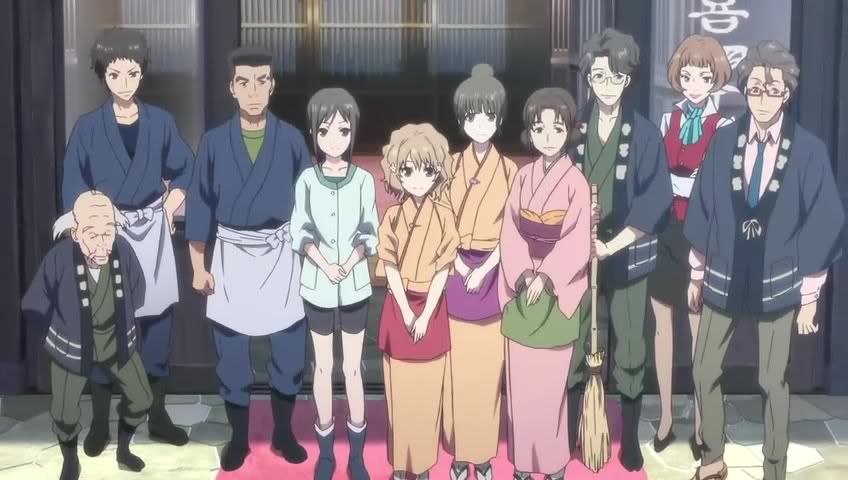 -Characters- 9.6/10
What I love about the various characters is the fact that they are all individual personalities who for all intensive purposes only have one thing in common, Kissui Inn. The show takes these characters, let's them interact and grow and let's them come to realize that although they may be totally different individuals their love of the inn binds them together in a deep friendship. Ohana is meddling, unpredictable and enthusiastic. Minko is devoted, serious, a tad melancholic and almost always very serious. Nako is shy, withdrawn, very timid and awkward in dealing with confrontation and Tomoe is their boss who attempts to hold it all together. There are several other semi-main characters each of which is also just as well defined, developed and wonderful to get to know.
-Story- 8.8/10
Ohana Matsumae, the sensible and practical one in her family is raised by her non-practical, somewhat shady, party going mother. One day her mother decides to dodge her bill collectors by skipping town and ships Ohana off to her mother who runs Kissui Inn. To say this is a bit of a culture shock is an understatement. While Ohana is not a lazy person she quickly finds she does not, yet, possess the dedication and perseverance which her grandmother demands in running the inn. However, it doesn't take her long to realize that she was made for the inn and the job there. And yet no matter how hard she tries she can't seem to get accepted by the rest of the staff. However, it doesn't take her long to win them over, except for Minko lol, and show them that although she may seem intrusive and bothersome it is because she cares. The story is not groundbreaking, what it is though is so very well written that you come to care about the inn and the characters, nothing mind blowing here but certainly a very well written slice of life story with the perfect amount of comedy thrown in.
-Overall- 9.1/10
I went into this expecting fluff and a ton of fanservice. I left with neither and instead left with a wonderful feeling of just completing a really, really enjoyable show. It's certainly, as I stated earlier, not mind blowing, but it is a lot of fun, an enjoyable and sometimes emotional romp and juts an all around solid show. Don't expect deep thoughts but do be prepared to be entertained, and what more can one sometimes ask for?