Post by Bytor on Mar 3, 2013 9:54:16 GMT -5
-Details-
Genre: Supernatural/Drama
Company: Artland
Format: 26 episodes
Dates: 22 Oct 2005 – 11 Mar 2006 and 14 May 2006 – Jun 18 2006
-Visuals- 9.9/10
Breath taking...stunning....visually captivating...simply gorgeous. Where do the superlatives stop and how in the world to be honest and yet not continue to lavish this overwhelming looking anime. Many shows honestly look better from a strictly visual viewpoint but I am hard pressed to name one that looks better from an artistic viewpoint. The animators used very muted colors (which makes the occasional use of bright colors even more jarring and emotionally noticeable)and often somewhat basic models to portray a world in which anyone who wishes for more wonder and amazement would feel right at home and regardless of the dangers never, ever want to leave. The visuals actually suck you in, they make you a part of this vibrant and mysterious world and I for one, while watching this show, could and did forget about everything else except it's wonder and beauty.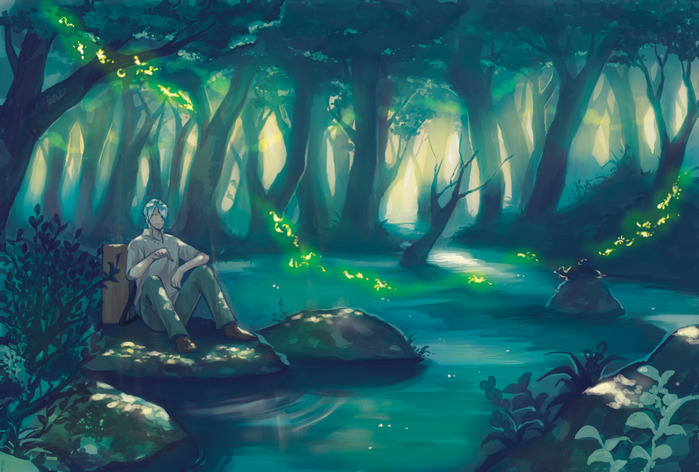 -Characters- 9.5/10
Well, to use the plural is a bit misleading, as really there is only one main character (although a couple of charterers do have a recurring, albeit small, role) and that is Ginko, a traveling Mushi master. And I must admit I have never watched a show where there really is only one recurring character before, so I went into this with some trepidation, as typically anthologies and me don't get along well. And except for
Master Keaton
and
Kino's Journey
this rule has held true...until now. This is not only one of the best anthologies I have ever seen but flat out one of the best shows I have ever seen. And that is in large part because of Ginko AND the various characters. While you only have one episode to get to know them the writing is so well done that you do become emotionally involved in these various characters and their story. Add Ginko, one of the most interested people in any anime and you have a wonderful recipe for success.
-Story- 9.7/10
OK, well as the previous subject should have been singular instead of plural this one should actually read stories instead of story. And as I stated earlier I am typically not a fan of such anime, and also as I stated earlier this show is most certainly an exception. This anime is 26 episodes of almost sheer genius. I seriously cannot remember one single episode in which I was bored or in which I found the show to be dragging or becoming full of filler. Each story centers on Ginko and people who have been subjected to the Mushi's (nature should be the best word to be honest as for the most part the Mushi are simply supernatural creatures who are living their life's as evolution has designed them to do) influences. Sometimes he can help them solve their problems, sometimes he can't, and that is what makes the stories great. As in life things do not always turn out for the best, but in this case most of the time things do turn out as they should, whether because of weakness, strength or simply bad luck on peoples part. And that is life...sometimes things just.....happen
-Overall- 9.6/10
As the old saying goes it just doesn't get much better than this. This show is relaxing, thought provoking, dramatic, heart breaking, whimsical, serious minded and yet doesn't come across as a show which attempts to talk down to you. I absolutely adored this show and only wish there was more. As I stated earlier the show is essentially about life, and the fact that sometimes there is a reason, but sometimes things just happen. Give it a try, be open minded and I cannot imagone you will not help but enjoy.