Post by Bytor on Feb 23, 2013 23:32:39 GMT -5
-Visuals- 8.8/10
OK, anyone who has played a Suda51 game knows the visuals are always over the top. This game is certainly no different. The colors are garish, bright and in your face, There is also excellent use of shadows and almost cartoonish graphics which for the most part at least, look really really nice...until they don't. At times the graphics are a bit jagged, At times they bleed a bit and there is an occasional issue with camera angles. What really makes the visuals wonderful though is the aforementioned style. Suda51 games are, typically, not known as graphical masterpieces, but what they are is a visual feast, and this game certainly delivers on that aspect. The presentation is unreal fun and most certainly fits the mood and feel of the game wonderfully. Now, this sounds silly, but if you agree with what I have written then you will enjoy this game visually, if, on the other hand you are looking for a more realistic game then you might want to look elsewhere (especially if over the top gameplay also turns you off, lol).
-Sound- 9.8/10
Rock N Roll!!!!! Zombie Style!!! This soundtrack absolutely rocks! Awesome tunes, which you can actually pick when you want to hear them. I actually found myself swaying and moving to the music, lol. Seriously, this soundtrack defines a rocking album, let alone a game soundtrack. Now, I have read many reviews criticizing the vocalization, and the only thing I can really say is obviously the reviewers have never played a Suda51 game. Like everything else he does in his games the vocals are over the top and garish, very stereotypical and, well, simply loud, colorful and fun to listen to, at least to me, and after all, I Am the one writing this review
.
-Gameplay- 8.0/10
OK, before I say anything else I will admit the gameplay is a bit repetitious, for the most part relatively easy and not overly complicated. Now, having said that I had a ball killing zombies, fighting the over the top bosses (although once again once you figured out, the thus admitted not hard to figure out pattern, there were not hard to defeat) and traversing through the few slight platforming levels. The only real issue I had was aiming the damn "gun", I simply couldn't seem to get it to aim like I wanted, luckily the times you are forced to use it are few and relatively far between. Now, as I said before the fact that the gameplay is relatively simple and somewhat repetitious is going to make this score somewhat low, but don't let that discourage you, the graphics, jokes and snide innuendos combined with some somewhat quick levels kept me from being bored, indeed I actually had a ton of fun with the game.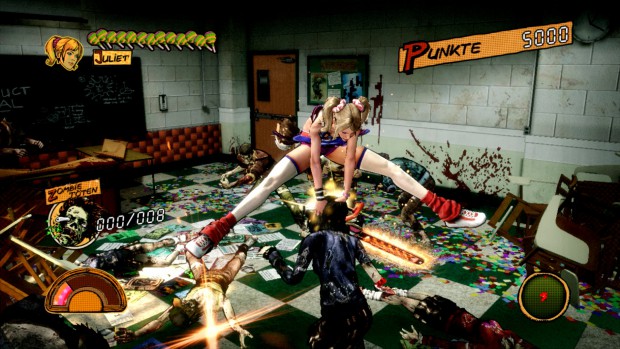 -Story- 7.0/10
Unfortunately there is a story, although it is slow to evolve, and I say unfortunately because everyone knows a good zombie story should NOT have an explanation, and unfortunately towards the very end you find out the whole zombie thing was due to...well...don't want to "spoil" it. Anyhow, yeah...there is a story...and not really a good one to be honest. Blah, zombies NEED no explanation, they just are, lol.
-Overall- 8.5/10
A fun little romp. Understand that that is what this game is and it is very enjoyable. Expect it to be more and you probably rate it a 5.0 as IGN did. Befuddling really, why in the world expect this game to be more? Instead enjoy it for what it is...a fun little romp.