Post by Bytor on Jan 28, 2013 22:21:51 GMT -5
-Details-
Genre: Fantasy
Company: Gainax
Format: 12 episodes
Dates: 16 July, 2011 to 1 October, 2011
-Visuals- 9.3/10
The style is what really sets this show apart. It is certainly not one of the absolute best looking shows ever made but what it lacks for in visuals it more than makes up for in style and panache. The only show I can compare it to is
Gosick
and it actually looks better, being both more vibrant, showing more attention to detail and also of course being a more "spiritual" (I don't really want to say occult but well....) show it has more of a fantasy feel to it in many scenes. I simply fell in love with the show early on, and actually I started watching it based on some pictures I saw about the show. just be careful, lol, somethimes I got so caught up in the backgrounds I forgot to pay attention to what was actuall happened on the show!
-Characters- 8.9/10
Hugh Anthony Disward (Huey) and Dalian are the two main characters and to be honest I am a tad conflicted in my appraisal of them. While I found them both to be extremely interesting and captivated I found Hugh's laid back attitude and calmness to be a tad at odds with what was often happening, I swear, he defines the word unflappable. Dalian on the other hand was perfect, she can go from serious to moody to playful to spiteful all in a matter of minutes, possibly even seconds. My other small complaint was unlike Victorique and Kujo in
Gosick
I simply did not see enough of a connection until the very end of the show. The relationship was not portrayed badly by any means, it just wasn't as developed as I would have liked. The other supporting characters are relatively well done but it i hard to really flesh out many characters in a somewhat short show, unless it is an exceptional show.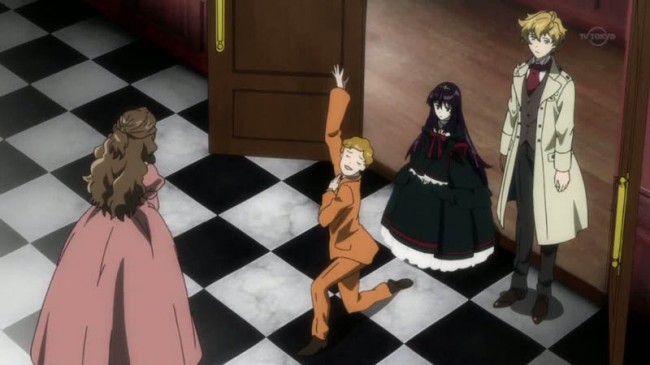 -Story- 8.9/10
Hugh inherits an old mansion with a rather remarkable library, which also contains a rather remarkable person, Dalian. Turns out she is the she is the custodian of the Bibliotheca Mystica de Dantalian which houses 900,666 phantom books. These books contain knowledge which if used incorrectly can have devastating effects, and of course people who crave power want many of these books. Using these books, which Dalian provides access to Hugh can fight evil and attempt to relegate some of the bad side effects these books can cause. This is where the story becomes more "spiritual" (read disclaimer above) and I actually enjoyed this aspect of the story immensely being a big fan of "histories mysteries", lol. Unfortunately as I stated above, the show simply wasn't long enough to totally satisfy my desires.
-Overall- 9.0/10
Seriously I adored this show. Once I started watching I simply could not stop...and then it was over. And there's the rub, there is simply not enough of it! Nowhere nr enough actually. A great start to what could have been a masterpiece which instead is relegated to wonderful simply due to not enough material to flesh everything out. C'mon guys, give us season 2 (and 3) right now!!!