Level E
Jan 22, 2013 21:21:36 GMT -5
Post by Bytor on Jan 22, 2013 21:21:36 GMT -5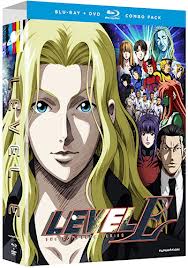 -Details-
Genre: Comedy/Drama/Sci-Fi
Company: Studio Pierrot
Format: 13 episodes
Dates: 11 Jan 2011 – 5 Apr 2011
-Visuals- 8.8/10
the show borderlines between looking really really good, at least as far as an anime show which attempts a more realistic look can, in other words a good looking cartoon, and looking simply fantastic, as many of the more sci-fi visualizations look. Indeed, they are the highlight of the show visually, not necessarily the various alines representations but the look and feel of the various alien technology. It's a shame this wasn't represented more, but even having said that the show is still overall a fine looking show.
-Characters- 9.3/10
Where to even start with Prince Baka....? Scoundrel, (evil) genius, despot, renaissance man, free loader, prince, savior, yes, all of that and more, lol. He is certainly one of the more interesting individuals I have ever met in any anime period. And honestly after finishing the show I'm still not sure you can put a definitive label on the guy. Combine him with his three bodyguards, one of whom actually wants to kill him half the time (and I don't mean that figuratively, I mean he actually wants to assassinate him, hehehe) and a couple of recurring characters, the Chromatic Rangers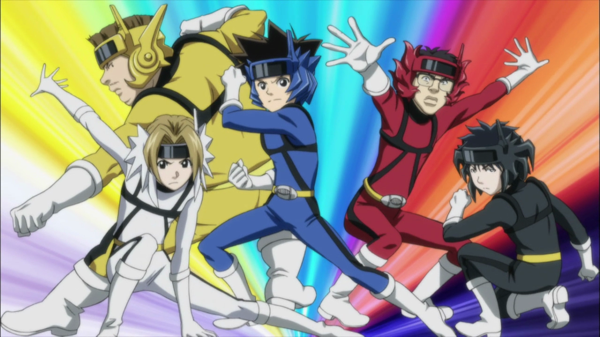 are to die for they are so funny, and you have a show which is absolutely a joy to watch.
-Story- 8.8/10
If you have seen the movie MIB then imagine that type of scenario, only difference is there are no MIB and the vast majority of the population has no freaking idea there are aliens among us! Now, combine the lack of control with one Prince Baka who is determined to do whatever he wants, whether it be huge pranks or simple blackmail and add a bit of intergalactic intrigue with a large dose of comedy and ta-da! You have the makings of a extremely well written and at times simply hilarious show.
-Overall- 9.0/10
This show may have been one of the most pleasant surprises I have ever experienced. I went into this with little expectations and indeed actually watched it on a whim and I found it to be a true delight. It was a refreshing pace after a few more serious anime and yet it wasn't simply shock and fan service, instead it was a rather convoluted comedy/drama that not only kept me guessing but also kept me entertained.