Saikano
Jan 13, 2013 22:51:14 GMT -5
Post by Bytor on Jan 13, 2013 22:51:14 GMT -5
-Details-
Genre: Drama/Romance
Company: Shogakukan
Format: 13 episodes
Dates: 2 Jul 2002 to 24 Sept 2002
-Visuals- 8.7/10
This is a dark show...and the visuals most certainly reflect that. This show is an emotional roller coaster, although thus admitted for the vast majority of the show it is a downhill ride emotionally and this anime is most definitely represented in it's visual style. Even the backgrounds and landscapes are represented, for the most part, as a war torn and devastated environment. The war scenes are for the most part somewhat portrayed in a blurred way and while there certainly is bloodshed the carnage is kept to a minimum. The cities do have a ravaged look and are portrayed very nicely. The true strength of the show, at least as far as the visuals are concerned, is the ambiance the visuals give to the show. While not the best looking show ever it is certainly one where the visuals fit the mood and feel of the show simply wonderfully.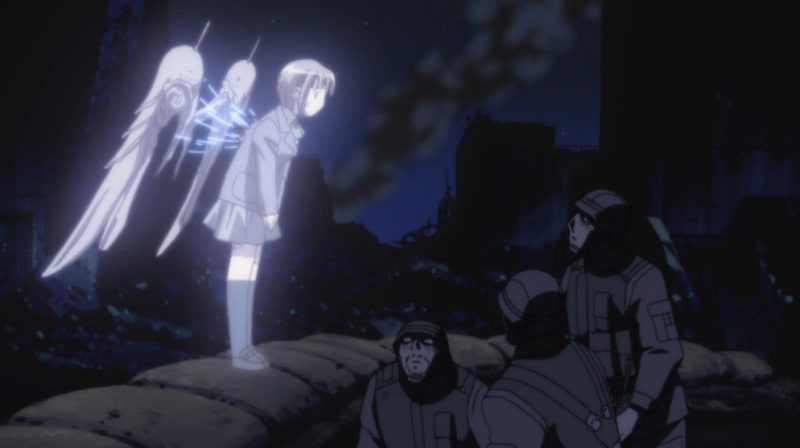 -Characters- 9.3/10
Shuuji and Chise are two high school students who fall in love. They are two fo the main characters along with Akemi and Atushi. Each of these characters is fleshed out wonderfully and the way they are portrayed adds emotion and will certainly make you empathetic towards their plights, trials and tribulations. be prepared, their story will tug at your emotions and this is not, I repeat, NOT, a feel good anime.
-Story- 9.0/10
This is at it's base a love story between the two main characters, Shuuji and Chise. At least on a certain level it is. On another level it is a story about love and the desire of humans to both love, and be loved when circumstances, in this case a world war and the fact that Chise is the "ultimate weapon" and no longer totally human, dictate that love is not only a lost cause but an almost impossible desire. Be forewarned, this is not a light-hearted story, it is beyond sad and while I did, in a perverse way, enjoy it I admit it is not an anime to be taken lightly. Someone described it to me as soul-crushing, and that may actually be an understatement.
-Overall- 8.8/10
This is a tough anime to judge to be honest. It's simply so sad that I at times, could not understand why I kept watching. At other times it made me proud to be a part of a race that can persevere under such daunting circumstances. Having said that I seriously doubt I could, or would ever watch this show again, it's very good yes, but honestly not something I want to relieve, at least in the foreseeable future.