Post by Bytor on Dec 25, 2012 0:30:45 GMT -5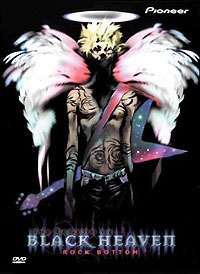 -Details-
Genre: Sci-Fi
Company: Pioneer/Geneon
Format: 13 episodes
Dates: 8 July 1999 – 7 October 1999
-Visuals- 8.2/10
Let's be honest. At times the visuals here are borderline awful. Way too many still scenes repeated over and over, and worse yet many of the background images are simply blurred and/or nondescript. Now for my disclaimer, other reviewers have certainly liked the animation more than I did, and that's OK, after all, one man's rose etc., lol. And now for y second disclaimer, honestly the anime was so much fun I seriously seldom gave a you know what about the animation, combine absolutely great voice acting with a fun story and the results are usually a nice show.
-Characters- 8.3/10
Oji Tanaka is an aging middle manager who once has aspirations of being a rock star, and at one point in time it appeared his group, Black Heaven may had had a chance at the big time, but alas, the band fell apart, the music died and the magic disappeared. Then one day a mysterious woman (Layla) appears and asks him to play again. Honestly, I could go on and on about the (few) main characters (Kotoko, Eriko and Rinko are absolutely freaking hilarious by the way as somewhat inept helpers to Layla) but in a certain sense they matter very little as compared to the story they tell. Having said that it's not as if the characters were non-existent or boring but they are certainly role players in a very nice little story.
-Story- 8.5/10
The entire idea of the (late) 60's musically was that love, peace and happiness (combined with music) could save the world. Personally I believe the 60's to be a failure. While music can do incredible things short term I am unsure to be honest of it's long term effects. This show attempts to disprove me, and to a certain extent succeeds. Across the universe two alien civilizations are at constant war. For whatever reason music is not only a lost art but also because of their scientific evolution a weakness. Enter Oji Tanaka, the lead guitarist of a band who had mediocre success many years ago. Turns out when the band broke up the war started to go bad. Honestly the story is less about good versus evil and more about our hopes and dreams we have as youngsters which often times get lost upon the way. As John Lennon said, life is what happens when we are busy making plans. In this case Oji had planned (dreamed) that Black heaven would on day be the biggest rock group in the world. Turns out they really weren't so good on Earth, but may have become the salvation of an alien culture.
-Overall- 8.3/10
This is going to sound weird. I liked this show quite a bit....but....I seriously have to question if it really was thirteen episodes. I honestly felt so many of the episodes were so similar they somewhat fused together into one (well, maybe two or three) long episode. now, that is not necessarily a bad thing but I cannot help but wonder if this show might have been better as a long movie or maybe 2-3 OVA's instead of a somewhat drawn out story. Not a bad story/show, but also not a great show. It's fun...but that is all it is...fun.