Post by solidbatman on Dec 16, 2012 14:40:10 GMT -5
This review will cover episodes one through five.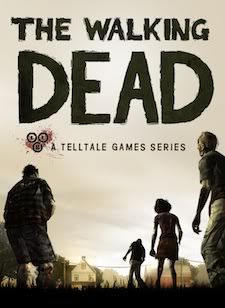 -Visuals- 7/10
Telltales take on The Walking Dead may feature some very cartoonish visuals, but that does not make this a cartoonish game. Veterans of Telltales Back to the Future should be right at home with the various character models. They are lanky, and plastic looking in a way. As for the atmosphere of the game, great care was taken in making this zombie infested world look bleak and depressing. The player gets a sense of just how hopeless these characters are at times in large part because of the visuals. Muted browns are used heavily, calling back to the TV series, which uses the same style of coloring. As for the zombies, they look like zombies, though they too look like plastic models.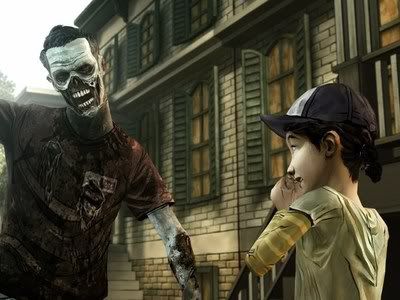 Get used to dealing with zombies' appetites
-Sound- 8.5/10
While the voice acting has a couple of rough patches, everyone turns in solid performances with their acting. Lee and Clementine are voiced wonderfully and do a great job a portraying their emotions. Everyone else turned in good work, but Lee and Clem really stood out. The music, too, is well done. The use of somber stringed instruments was a great choice because it helps convey the atmosphere to the player. In another great choice, the developers went for a more minimal approach to the music, so in many cases, there simply won't be music. It makes the player feel alone and helpless in the game.
-Gameplay- 7/10
This is The Walking Dead's stumbling block. The gameplay is mainly dialogue and puzzle driven. During most conversations, dialogue choices will pop up for you to choose, like in Mass Effect or Fallout. A key difference from those two games though, is the time limit. You can't sit there and ponder each choice. If time runs out before you pick a choice, Lee will just stay silent, and the characters will react to that. Nearly everything you say is remembered by characters and the way they treat you, or act around you is based off what you say and do. Your choices won't affect the ultimate out come of the game, but how you get there is basically left totally up to you, the player.
The other key part is the puzzle game play. It's usually just as simple as inspect the objects and find something to open a door or get into a building. The puzzles are never hard and usually have no consequence for taking a while.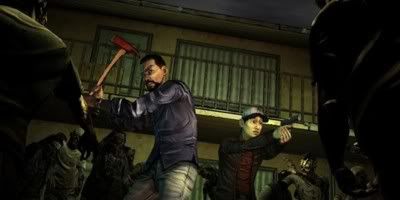 Where the gameplay stumbles is in its actions sequences. All actions are done by using the left joystick to move a cursor over your target, and pressing X to interact. It proves to be very cumbersome and inaccurate, especially when time matter, such as when a friend is being dragged around by zombies. You may move the cursor too far, which is very easy to do, or be unable to keep the cursor over the target as it is moving and wriggling around. It's just poorly executed. The only way I ever died was in these sequences when I couldn't get the cursor over my target fast enough.
-Story- 9/10
You play as Lee Evertt, a convicted killer being escorted to prison outside of Atlanta. While having a conversation with the police officer transporting you, the police car hits a zombie and swerves off the road into the woods. Lee manages to escape, taking out a zombie, or a walker, thanks to some help. Slightly injured, Lee seeks out help in a nearby house. It's here that he meets Clementine, a young girl who has been left alone. Together they try to find her parents and survive the zombie outbreak.
Fans of the television series and the comic series will be right at home with this game. The focus of the story isn't really the zombies themselves, but the characters. We never find out what caused the outbreak, and we are instead treated to different reactions to it and different ideas on how to survive. Is it survival of the fittest? Should we try and help everyone? How are we going to get food? The story is well written and has plenty of twists and turns. As I said earlier, the ending is basically the same for everyone, but the details and how you get there is almost entirely left up to you.
-Overall- 8.5/10
The Walking Dead is certainly a game you should play if you favor story over gameplay. It creates a compelling narrative that draws the player in completely. It has been a while since I have been so invested in a story and it's characters within a video game. A good number of glitches occur, and some poorly designed action sequences making The Walking Dead short of amazing. It is, however, a great game and one almost all fans of the zombie genre should play.