NieA_7
Dec 12, 2012 18:32:56 GMT -5
Post by Bytor on Dec 12, 2012 18:32:56 GMT -5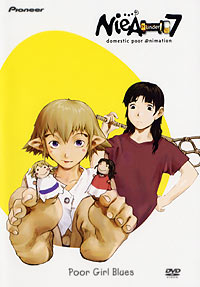 -Details-
Genre: Comedy
Company: Triangle Staff
Format: 13 episodes
Dates: 26 Apr 2000 – 19 Jul 2000
-Visuals- 8.5/10
I'm not really sure I have ever been at a loss for words...but attempting to review this has certainly brought me to the precipice of that very thing. This show is so very, very diverse in it's art style that to be honest I am forced to say it doesn't actually possess an art style. There are many scenes which reflect traditional anime illustrations, then the show shifts to a simple pencil style without the typical cel shading, and then it will shift to simple still scenes all the time using what can best be described as somewhat limited use of colors. Still, I guess it does work, I never found it to be overwhelmingly bad nor overwhelmingly good. Instead I guess I'd call it...interesting?...maybe? perhaps?
-Characters- 8.2/10
While watching this show it occurred to me that the motives, desires and thoughts were a bit underdeveloped in some characters and in a few others I knew exactly what was going on with them. And this strikes me as bit strange. For instance Mayuko is a studious, motivated struggling student worker who simply desires to better herself. Genzo is the love struck friend who never quite voices his feelings. Kotomi is the bath house proprietor who is doing everything to keep the house financially afloat and the you get to NieA. NieA is an alien, and to make matters worse(?) she is a free loading, non-working care free roomie who cares little about little. And honestly that is my biggest issue with the anime. You simply never get to know NieA. And I don't mean that in a mysterious way I mean that in a "how the heck could anyone tolerate her" way. She simply never shows any concern for anyone or anything other than herself and food. I understand this is a comedy but there is enough drama and unanswered questions about her that to be honest my favorite episodes were the ones where she disappeared and Mayuko didn't know where she was. The various supporting characters ranged anywhere from somewhat interesting to (to be honest) blah at best. I have to assume the idea was the show would take precedence over the characters, but I have to ask how can you have one without the other.
-Story- 8.2/10
A treatise on the Hindu caste system? A sociological essay on the fundamental differences between the haves and the have nots? A somewhat ambiguous commentary on social class distinctions and the contrast between a capitalistic society versus a communistic one? Or...is this a pretty simple straight forward comedy...? To be honest, I don't know. What I do know is I found it to be a moderately, and at times, a seriously enjoyable comedy. At other times I found it to be a slightly amusing social commentary. And there is the rub. The show cannot quite find it's direction. It succeeds, and equally fails on equal sides of the fence. On the one hand is is a story of two friends, one worthless alien and one studious poor student and on the other it attempts (and fails IMO) to be a show concerning class and social racism. However, I have to admit I did enjoy most of it, especially the middle "half", lol.
-Overall- 8.3/10
I do not regret watching this show at all. It was entertaining and for the most part pretty enjoyable. However, it did leave me with a taste of being unfulfilled. It just failed as much as it succeeded, still, it's not horrible by any stretch of the imagination...it simply leaves as many questions unanswered concerning the characters (well, at least as far as NieA is concerned) as it does answered. Would I recommend it? Yes, but thus admitted with a few reservations.