Post by solidbatman on Jul 14, 2011 14:56:46 GMT -5
-Visuals- 9.5/10
I'm going to be perfectly honest here. It is nearly impossible for me to give a score to an old Playstation game today. The visuals of today are clearly far superior to the visuals of 1998, when this game was released. That being said, I can tell based off reviews of this game when it came out, that Metal Gear Solid features some cutting edge visuals for it's time. So, due to my inability to give this game a score on visuals, I will give it the score
Game Stats
shows.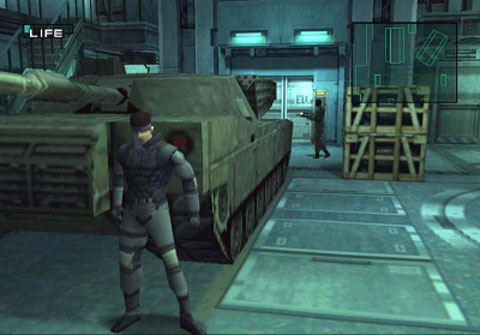 -Sound- 9.9/10
The soundtrack is emotionally stirring at times and action sounding at other times. The in house team at Konami really did a great job in composing the soundtrack to fit the mood the game is trying to set. A low key tune will play while Snake is sneaking, while a frantic tune plays if a guard spots Snake. The music during cut scenes is also perfectly done, setting haunting, mysterious, and emotional moods. The voice acting is some of the best I've heard in a game. David Hayter turns in his best performance of the entire series as Snake in this game. The other voice actors, too, sound great and their personality comes out through their voice. I still wonder why robots sound like dinosaurs though.
-Gameplay- 9.7/10
Metal Gear Solid is a stealth game at heart. What that means is that you want to avoid combat when possible and find ways around the guards because in a firefight, the guards will eventually overwhelm you, always. This means if you are spotted, you can eliminate the guard then hide, or just run and hide. The boss battles are what really stood out to me while playing. To this day, I have never faced a boss like Psycho Mantis who can "read" your mind. A one on one sniper battle is also in order not to mention a battle where Snake must defeat a tank, without a rocket launcher to aid him. The boss battles are so creative and developers today need to look back and remember that boss battles don't always have to be a big flashy explosion sequence.
Even today, its controls don't feel archaic. Moving Snake around is easy and selecting a weapon is simple enough. Combat is at times, laughably easy due to the hardware limitations of the day. At most, Snake will be facing only 3-4 enemies on screen at one time, making it a tad easy to eliminate them, but more always come, forcing you to hide eventually. A small complaint I have is the camera angle, which is a top down angle. I've never been a fan of these because it makes it hard to see where I am going, and who is shooting at me. To combat this, Metal Gear Solid has a first person mode to aiming, shooting, and surveying your surroundings.
-Story- 10/10
You play as Solid Snake, the hero of Metal Gear and Metal Gear 2. Snake has left FOXHOUND, a covert operations force, but is forced into action when members of FOXHOUND launch a rebellion on Alaska's Fox Archipelago. They take control of the military installation on the island as well as the nuclear armed mech called Metal Gear REX. They demand the remains of Big Boss, the legendary mercenary from the first two games, within 24 hours or the US will face nuclear disaster. Snake is sent in to stop the rebellion.
The story has plenty of twists and is captivating the whole way through. I was constantly on the edge of my seat while playing just to see what was coming next.
-Overall- 9.9/10
One of the best games I've ever played, and it gave new life to an entire genre of gaming. From the music, to the boss battles, this game does not have a single weak point. Now, I command you, go buy this game. You will not be disappointed.