Post by Bytor on Jun 23, 2011 21:45:41 GMT -5
-Visuals- 8.7/10
The game looks, at best, crisp and decent. And it not as if there are glaring issues that diminish the visuals, however...the game simply looks dated. And while dated is not always a bad thing here it does detract from the game somewhat. BUT....only somewhat. The character renditions are cute and interesting looking and the backgrounds and various areas you will traverse are all well rendered and look very nice. I especially love Gami Gami City! It is so freaking over the top and garish that I adore it, I mean simply adore it. The forest look nice, water looks nice, mountains look nice and snow looks nice, just don't expect to be overwhelmed, even for the PSP these graphics are nothing that will take your breath away, but I don't imagine you'll be terribly disappointed as well. Now, for the other side of the coin, which some will love and I imagine some will hate. The cut scenes are rendered in a very cartoonish way, and they are rendered very nicely but for many they may be entirely too "cute" for what is supposed to be a serious scene. I'll leave that decision up to you. While I am still a tad undecided about how i feel about the cut scenes they are still overall well done and look nice. Hate it or love it I imagine is gonna be the consensus here.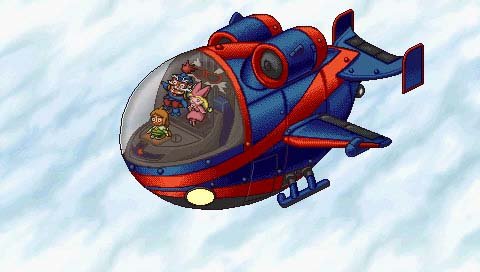 -Sound- 8.0/10
Well...and this might be my shortest dissertation ever...the sound is so low and unobtrusive I finally turned the volume off during regular gameplay and turned it back up during the (few) voiced cut scenes. So...I guess instead of bashing it as if it were bad I'll simply give it a N/A. Edit: OK...I feel stupid. If you go into settings you can turn it up tremendously, lol. Now, having discovered that the music is still very unobtrusive and while at times somewhat eloquent it's often at best background music. the voice overs are, as expected over the top and to be honest to me sounded entirely too juvenile, still, I've heard worse.
-Gameplay- 8.9/10
If you don't like turn based strategic (somewhat) old school RPG games then stop right here, quit reading and never, ever, ever play this game. You equip weapons and armor and encounter battles randomly on the world map (somewhat a bit too much sometimes to be honest) and engage them in battle. The strategy aspect comes into play as the game plays out as a typical SRPG as movement and attack angles are limited (especially in the special attacks) and damage is based on skill level and weapon equipped, as well as attack angle, attack from behind or to the side and damage will be stronger, likewise find yourself attacked from behind or the side damage incurred will be greater. The secret is to use special attacks when needed, as MP points are limited, but honestly these attacks are not always (but typically are) the best attacks to use, and always make sure your healer has plenty of points to use, as boss battles especially will take off tons of points and often allow you no recourse except to heal, which obviously will render attacks impossible to accomplish, and while prolonging the battle will still ultimately end in your demise. having said that to be honest while I found many of the boss battles to be somewhat tedious I found few to be really that difficult, Fight intelligently and use your items wisely and you should have little trouble. Challenging yes, silly hard, no. Now, the world is somewhat limited and be prepared to traverse the same areas over and over and over again, but interestingly enough the area encompassed was small enough that I seldom got annoyed that I had to back to Godrif for the fifth time. Or was it the sixth, lol. Like most of the game, what is here is solid, not outstanding, but also not horrible...a lot to be said for that alone.
-Story- 8.6/10
This game is actually two stories in one game. It actually is a story in the sense that the main character, Pietro (at the beginning a 10 year old), actually grows up in this game. In the first story he is searching for his mother's soul. In the second (now aged 15) he is attempting to rescue his father from an evil spirit that is attempting to take over the world. The story is nothing unique and doesn't tell anything never told or mind blowing. it is, however, well told and while not exactly nail biting and riveting action it is enjoyable and deep enough to keep you, while maybe not enthralled, at least entertained. The world is also relatively small and while you will visit each area many, many times it's not terribly time consuming to traverse, although thus admitted the seemingly endless random encounters do somewhat slow down the ebb and flow of the story at times, although to be honest by the end of the game I somewhat had the encounters timed and was ready for them, lol.
-Overall- 8.8/10
This game actually gets better and better as it progresses, and I cannot definitively say why except that it builds on it's strengths and doesn't really have any glaring weaknesses (except maybe for the sheer amount of random encounters). It's a cute game. it looks cute, it plays cute, the cut scenes are extremely cute and the characters are cute. Don't expect to be blown away but also don't expect to be disappointed. The game is simply a fun little RPG that will keep you occupied for upwards of 30 hours and while not a huge title is one I would certainly recommend to anyone, I think it is especially accessible to beginner RPG'ers and yet experienced gamers should also enjoy a solid game with a solid gaming experience.