Post by Bytor on Mar 29, 2011 18:18:05 GMT -5
-Visuals- 8.7/10
I have agonized over this decision. On the one hand there is pretty much NO clip rate and NO freeze frames. The characters themselves are also rendered very, very nicely (especially the attention to detail in the outfits and weapons) although once again this is a case of typical JRPG anime look, which certainly will not appeal to everyone. The other strong aspect is the various monsters themselves. They pretty much all look great! I especially love the giant turtles! They look and move simply wonderfully! Now, on the other hand the colors to me seemed a bit muted and not as vibrant as they could have been. Not totally "white washed" but still a tad understated. This isn't a huge deal and unless you play something more "alive" it's certainly something you'll get used to. The only other slight issue is the battle scenes. The environments are relatively bland and there is some lack of collision detection, although the weapons will certainly land blows, so no real big deal at all. Overall (assuming you like the style) a very, very nice looking game, just not a great one.
-Sound- 8.0/10
The music is either obnoxious or quirky funny depending upon your viewpoint. The problem I felt was that it didn't add anything to the game. In areas/scenes were it should have evocated a feeling (bad or good) it simply "was". I didn't find it necessarily overly bad simply mediocre. It's actually a shame, because the voice acting was especially good, although I imagine Cross will get on some players nerves pretty bad pretty quick. Jack and Ridley were, I felt, excellent however. They had just enough over the top to to be dramatic without coming across as too melodramatic.
-Gameplay- 9.3/10
At heart the game is basically a typical JRPG with a real time battle system. You can have up to four members in your party and although you can issue commands in fights your allies will typically just attack. Overall I found the AI of my allies to be excellent though! Other than a heal command I seldom had them do anything but attack. Attacking is also easy and yet does require some strategy. While you can simply enter a battle and hack and slash in many of the boss battles and even some normal ones this is a great way to see a "Game Over" screen. Instead you will want to fight, parry, move around for a better attack etc. Simple attacks are accomplished using the O button (each successful attack also gives you a "volty point"), which does take some getting used to and the X for blocking. Special attacks are accomplished using the square button which will then take off ten volty points but the really nice attack is accomplished using X and square, which takes off all of your volty points but unleashes an attack around ten times more powerful than your normal attacks. The interesting and challenging aspect of this attack system is obviously when to use volty attacks and when not to use them. But the really cool thing about the attack system is how you set up your normal attcks. Basically each weapon has so many slots available for customization. The skills needed for this are simply learned based on experience. For instance your sword may have 5 slots which you can then fill with such skills as left to right slash, right to left, upper cut etc. Each individual skill takes up a certain number of slots, so more powerful attacks will take more slots than a simple thrust or slash. The tactical aspect of this is important as with some fast enemies you don't really have time for the larger more powerful (albeit more time consuming) attacks. Some weapons also have elemental attacks attached to them which can cause even more damage. Armor, and items are gathered as per normal game but commands (which are issued to your allies) are learned through purchasing and reading books. Travel is instantaneous between areas, once an area (and transfer point, which is a pig statue, lol) is discovered but free roam, for the most part, is still possible, and indeed an easy way to grind and level up. NPC's (kinda) are everyone and here is one of the unique aspects of the game. Each and almost all are recruitable. Some you simply speak to, others you'll need to accomplish tasks for, some you'll need to defeat in duels (which are fun as you can duel anyone pretty much anytime by simply kicking them (more on that later) and some will only join you as the story progresses. Now here is the fun and challenging aspect of this system, each and everyone of these NPC's then becom playable characters which can be used in side quests, although in the main storyline your allies are picked for you based on the storyline. There are, BTW, 177 NPC's who can join you, and good luck getting them all, lol. The story is basically the humans vs the fairie creatures, and here's where the gameplay gets interesting (somewhere between 7 and 10 hrs of play, this game seriously starts slow!). Once at this point in the game you have to decide how to play the rest of the game, in other words are you going to side with the humans or take the elves side. And trust me, it's NOT a clear cut black and white decision. And basically the game becomes two different games at this point and unlike some games hwere decisions certainly affect the outcome in this game your decision will totally change how you get to the end and what actions you take along the way. A very cool aspect to the game, heck, I paused the game for @20 minutes deciding which path to take!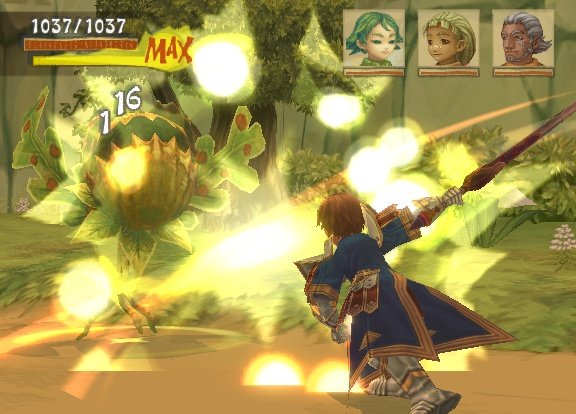 -Story- 9.0/10
You play as Jack Russell, a young Radiata Knight wannabe (who actually is one for a short time) whose father was a famous knight. Jack meets Ridley, who has trained from birth to be a knight, and who is of royal blood. Together (well mostly her, lol) you discover a plot brewing to cause war between the Fairy creatures (elves, dwarfs, goblins, etc) against the humans. While there is nothing really original about this aspect of the story it does evolve into a really great story involving the destiny of humans and fairies and the world they inhabit. However, be prepared for many hours of seemingly non-consequential gameplay until the story evolves, but wow, once it does start it's full steam ahead. My only real complaint (other than the seriously slow start) is that the story is not quite fleshed out enough for me.
-Overall- 8.9/10
A really, really good game. Unfortunately it's not a truly great game. While there's no really glaring weakness's there's also nothing that simply carries the game to greater heights. I guess the easiest way to describe it is when I finished I simply didn't have the "emotional exhaustion" I feel with better games. I dunno, maybe it's the story, it's really soooo good and it just isn't fleshed out enough (took me @10 hrs to get into it and even taking my time I finished in a tad over 42 hrs). That's really the only thing I can really put my finger on. A fun game, a challenging one (heck making it through the unreal first 10 hrs of sloooow everything is challenging, lol,) and one that I feel confident a true JRPG will really enjoy!